MPC8349E-mITX highly integrated reference platform

The MPC8349 reference board (MPC8349E-mITX) integrates the enhanced e300 PowerPC core and advanced features such as DDR memory, dual PCI, Gigabit Ethernet and high-speed USB controllers. The platform supports dual 10/100/1000 Mbps Ethernet controllers, dual 32-bit/single 64-bit PCI controllers, integrated security engines, USB 2.0 host and devices controllers, 4-channel DMA, DUART, serial peripherals, general purpose I/O and system timers.

The high level of integration in the MPC8349E helps lower system costs, improves performance and simplifies board design.
A board support package (BSP) is pre-installed on the MPC8349E-mITX. This BSP consists of a bootloader (u-boot), a generic PPC Linux-based system and associated file system. U-boot and the Linux kernel reside in the on-board Flash memory while the File system is pre-installed on the hard disk shipped with the MPC8349E-mITX. Upon power up, the Linux system is running on the MPC8349E-mITX.
The MPC8349E-mITX BSP generation takes advantage of a tool called the Linux Target Image Builder or LTIB. LTIB is a suite of tools that leverages existing Open Source configuration scripts and source code packages and bundles them all into a single BSP generation bundle. The source code packages include boot loaders and Linux kernel sources as well as many user-space source code packages to build a complete BSP. LTIB also provides compiler packages required to build the BSP. Freescale developers use LTIB to create BSPs for a multitude of Freescale development targets. LTIB leverages as much BSP elements as possible for all Freescale targets that are supported while offering the flexibility required to customize, as necessary, components that require platform specific modifications.
Application
The MPC8349E PowerQUICC II Pro Family is designed to provide a cost-effective, highly integrated control processing solution that addresses the emerging needs of networking, communications and pervasive computing applications. MPC8349E processors can be used in applications such as Ethernet routers and switches, wireless LAN (WLAN) equipment, network storage, home network appliances, industrial control equipment, and copiers, printers and other imaging systems.
Hardware for Platform
· CPU
o Freescale MPC8349/8349E TBGA @ 266/533 (or 333/667) MHz
· Memory system
o 256-MByte (up to 1GByte) DDR1 DIMM SDRAM
o 16-MByte Flash (two MacronixTM MX29LV640BT Flash Memory)
o Compact Flash connector
· Interface
o LAN: TSEC 2, GMII interface: 5 x 10/100/1000 BaseT RJ-45, with VitesseTM VSC7385
SparX-G5TM 5+1 Port Gigabit Ethernet Integrated PHY Switch;
WAN: TSEC1, GMII interface: 1 x 10/100/1000 BaseT with RJ-45 interface, using
VitesseTM VSC8201single port 10/100/1000 BaseT PHY
o USB 2.0 high-speed (480Mbps, OTG and HUB):
◇ USB1, ULPI interface:
4 x USB2.0 Type A receptable connector, with Genesys LogicTM GL850A 4-PORT
USB 2.0 HUB Controller
◇ USB2, ULPI interface:
1 x USB2.0 Type Mini-AB Receptable connector, with SMSCTM USB3300
Hi-Speed USB Host/Device/OTG PHY
o Serial ATA controller:
◇ Silicon ImageTM SiI3114 PCI to Serial ATA Controller, connects to 66MHz PCI-1
o Dual PCI:
◇ 1x 32-bit 3.3V PCI slot, connected to PCI-2
◇ 1x 32-bit 3.3V miniPCI slot, connected to PCI-2
o AtmelTM AT24C08 serial EEPROM
o 1 RTC DallasTM DS1339 RTC with battery holder
o Freescale MC9S08QG8 MCU (20-MHz HCS08 CPU) for fan control and soft start
o Board Connectors
◇ Expansion Connectors
◆ 16-bit Local Bus expansion connector, 9-bits addressing for external VoIP
Module
◆ LCD interface using GPIO
◇ 2 X 10 ATX Power supply connector
◇ RS-232C interface
◆ 1 X 9 pin DB9,1 X 10 pin 2.54mm connector
◇ JTAG / COP debug interface
· Watchdog:MPC83xx with WATCHDOG
· Form factor: Mini-ITX form factor (6.7 inch x 6.7 inch)
· 6-layer PCB (4-layer signals, 2-layers power and ground) routing
MPC8349E-mITX block diagram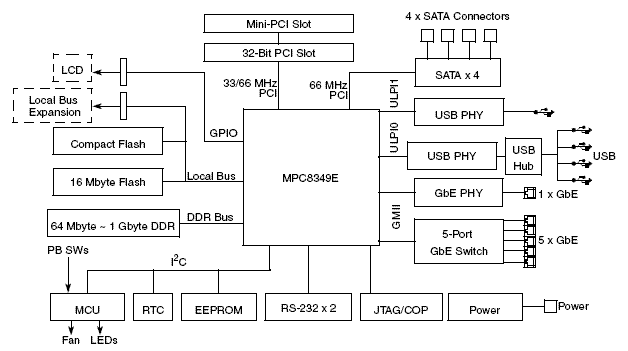 MPC8349E-mITX software
(1) Document:
MPC8349E-mITX manual
(2) Hardware:
MPC8349E-mITX schematics
(3) Software:
MPC8349E-mITX-20070221.iso including:
1) Board Support Packages
2) Embedded Linux2.6x or 2.4 source code package
3) Uboot1.1/2/4
4) GNU, GDB tool chains
5) PCI, USB2.0, GbEthernet, 10/100 Ethernet drivers
6) JediView for PowerPC V0.6 software
Packing list
No.

Accessory Item

Qty

1

MPC8349E-mITX board

1 PC

2

Cable for Ethernet

1 PC

3

Cable for DB9 (male) to DB9 (female), RS232 cable

1 PC

4

256M DDR1 DIMM SDRAM

1 PC

5

ATX Power Supply

and MITX enclosure

1 PC

6

CD, MPC8349E-mITXE BSP and Documentation

1 PC
View product image

Ordering information
| | | | |
| --- | --- | --- | --- |
| Model | Description | Brand | Remark |
| MPC8349E-mITX | MPC8349E reference platform | MICETEK | |
| | USB TAP In-circuit Emulator for PowerPC | MICETEK | Optional |
| | JediView for PowerPC IDE | MICETEK | Optional |
Document download
Copyright 2009 MICETEK International Inc. All Rights Reserved
Support IE 6.0