MPC8548E
development platform
(MPC8548E processor card + Type-N/A carrier)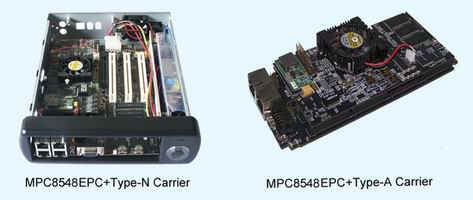 (Above is the pictures of MPC8548E reference board )
Overview
MICETEK provides a quicker and more convenient solution of development system for Freescale PowerPC processor family, which consists of MPC85XXE processor card and two kinds of carriers for different application. Combined with MPC8548E processor card (MPC8548EPC), Type-N carrier can be used for network communication application, while Type-A for ATCA/MicroTCA chassis. It reduces the design cycle and saves the investment for the designer.
These PowerQUICC III processors (PQ38), the MPC8548E, MPC8547E, MPC8545E and MP8543E, are designed to deliver Gigahertz-plus communications processing performance and advanced features with the exceptional integration and high-speed connectivity required by enterprise networking, telecom transmission and switching, 3G wireless infrastructure, storage and high-end imaging markets. The processors are designed to offer clock speeds scaling up to 1.333 GHz with headroom for 1.5 GHz.
Advantages of Using the MPC8548EPC
The MPC8548PC is designed to contain the mandatory memories (DDR and flash) and system logics (latch and buffer) only. However, it supports wide range of peripherals/ interfaces, for example 10/100/1000 Base-T Ethernet, UART, through the I/O connectors and a corresponding carrier board. The following sections describe the advantages of using the MPC8548PC.
1 Flexibility
2 Shortening of the design cycle
3 Reusability
4 Ease of Debug
5 Standardized reference
Solution 1: MPC8548E development platform (MPC8548E processor card + Type-N carrier)
Application: Network communication application
Model: MT8548E-N
Features
· CPU: Freescale MPC8548E, with frequency speed up to 1.3GHz; Performance: 3065MIPS
· Memory:
— 256MB DDR1 SDRAM
— Flash: up to 16 Mbytes
· Interfaces:
— Four Gigabit Etherset ports
— Two PCI slots
— One PCI-Express slot
— One RS-232 port
· Other ports on MPC8548EPC
— COP interface
— 5V fan connector
— 3.3V and 5V power supplied from a carrier board
— Dimension: 147mm x 70.9mm
· Other ports on Type-N carrier
— 12V and 5V power supplied from 4-pin connector
— Dimension: 220mm x 148mm
Solution 2: MPC8548E development platform (MPC8548E processor card + Type-A carrier)
Application: AMC card for ATCA or MicroTCA system
Model: MT8548E-A
Features
· CPU: Freescale MPC8548E, with frequency speed up to 1.3GHz; Performance: 3065MIPS
· Memory:
— 256MB DDR1 SDRAM
— Flash: up to 16 Mbytes
· Interfaces:
— Two Gigabit Etherset ports
— Two PCI slots
— PCI-Express and SRIO:
--PCI Express X8, or
--PCI Express X4 and SRIO X4
— One RS-232 port
· Other ports on MPC8548EPC
— COP interface
— 5V fan connector
— 3.3V and 5V power supplied from a carrier board
— Dimension: 147mm x 70.9mm
· Other ports on Type-N carrier
— 12V and 5V power supplied from 4-pin connector
— Dimension: 180mm x 74mm
Solution 3: UTCA8548E system (Including two sets of MT8548E-N and UTCA chassis)
Application: ATCA or MicroTCA system
Model: UTCA8548E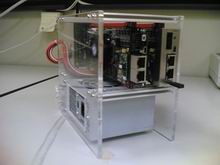 Pictures for MPC8548EPC

above bottom
MPC8548EPC_tarball in CD
(1) Documentation
MPC8548EPC processor card User manual
quickstart_guide_MPC8548EPC+Type-N_v0.3 MPC8548EPC+Type-A
Type-N Type-A carrier Rev.C user manual
(2) Hardware
MPC8548EPC schematic
Type-N Rev.C schematic
Type-A Rev.A schematic
(3) Image
RAMDISK image
Linux-2.6.11 kernel image
Linux-2.6.15 kernel image
U-boot.bin for u-boot-1.1.4
(4) Readme
(5) Software
MPC8548ECDS_20060224-LTIB (including U-boot, RAMDISK file, Linux source
and PowerPC GCC compiler)
Ordering information
| | | | |
| --- | --- | --- | --- |
| Model | Products Description | Brand | Remark |
| | MPC8548E development platform with Type-N carrier | MICETEK | |
| | MPC8548E development platform with Type-A carrier card | MICETEK |   |
| MPC8548EPC | MPC8548E processor card | MICETEK |   |
| | USB TAP In-Circuit Emulator (for PowerPC) | MICETEK | Optional |
| | JediView for PowerPC IDE | MICETEK | Optional |
Document download
Flyer for PQ3 development board (processor card + carrier)
Copyright 2009 MICETEK International Inc. All Rights Reserved
Support IE 6.0