JUDI In-circuit Emulator
USB port High-speed in-circuit emulator for ARM

| | |
| --- | --- |
| | As a member of ARM world developing union, MICETEK is dedicated itself to extending and application of the ARM and Soc for a long time. In order that more ARM users and fans can share the over 20-year emulating technology of MICETEK, JUDI is introduced to the market as a high performance and cost-effective ICE for ARM. |
<![if !supportEmptyParas]>Hardware feature:
· CPU real-time control in full-speed emulating without occupying any CPU resource.
· Support most of ARM7 and ARM 9
· Full-speed USB port communicates with PC, plug and play
· Full-speed JTAG port with the speed of loading code up to 400KB/S
· Support wide range of voltage: 1.8V~3.3V
· Support ARM Cache-Inside and MMU function
· Hardware real-time breakpoint
· Target board can initialize automatically
· RDI interface protocol can connect various software-developing platform supporting RDI
protocol, such as SDT, ADS, RealView and JEDIview.
· Flash Utility function: support hundreds of common-use Flash chips ISP
· Support MCU Inside-Flash writing
· Opened Flash Utility interface, user can add any new Flash chip as requirement
· In-line update the firmware of JUDI and support more new ARM
· Dimension: 5.875 inch x 3.000 inch x 1.250 inch (L x W x H)
JediView for ARM IDE
Features:
· IDE integrated development environment, GCC complier-inside
· Project Manager can achieve the projects graphics and block management
· The source program debugging support disassembly and combination mode
· Support ThreadX, uCOS II, Linux, VxWorks, WinCE and Nucleus+ etc BSP
· Real-time debug: Single-step, full-speed run, reset, software/hardware breakpoint and
transfer etc.
· Supply necessary hardware testing tools for hardware dubugging, which can inspect if the
peripheral circuit such as CPU, RAM and Flash are OK.
· Windows for CPU register, circumjacent register, memory and stack etc, dynamic change
and real-time data check
· User-defined window, user can define the I/O of SoC and circumjacent register.
· Watch window, can add the user-defined register, memory address and variable, easy for
concentrative checking
· In-line Flash program, supports hundreds of Flash chips
· The data in RAM or Flash can be transmitted into the computer and the data can be
downloaded into RAM or Flash.
· User can realize the software enables all the operation using the command windows and
can read and write the registers.
· Instruction-Set-Simulator function can simulate the running of ARM with software without the
Emulator and target board. It's convenient to debug and study ARM.
· Profiler can analyze the code coverage rate, time of executing module, and the rate of transfer
function. And then user can adjust the program code and improve the efficiency of execution
· CVS function makes it easy to manage the project efficiently for developing team.
· VB Script and Shell Command can achieve debugging and testing automatically
Interface of JediView for ARM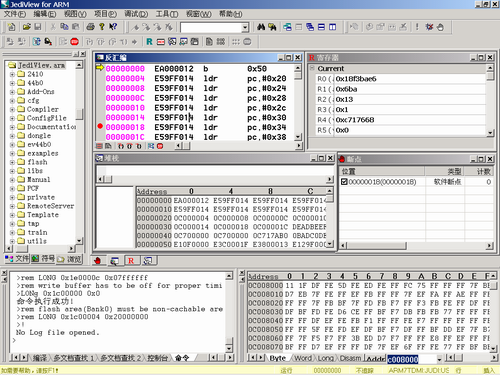 Support ARM family
ARM7, ARM7DI, ARM7TDMI, ARM7TDMI-S, ARM710T, ARM726FZ
ARM9, ARM9TDMI, ARM940T, ARM946E, ARM920T, ARM922T, ARM926E, ARM9E-S,
ARM966E-S and other ARM family
Third-Party product

Ordering information
| | | | |
| --- | --- | --- | --- |
| Model | Products Description | Brand | Remark |
| JUDI | JUDI ICE for ARM processor | MICETEK | |
| JediView-A | JediView standard version for ARM | MICETEK | Optional |
| JediView-AL | JediView for Linux OS and for ARM processors | MICETEK | Optional |
| JediView-AUCL | JediView for uClinux OS and for ARM processors | MICETEK | Optional |
| KEIL | Keil μVision2 | KEIL | Optional |
Copyright 2009 MICETEK International Inc. All Rights Reserved
Support IE 6.0