JEDI-II In-circuit Emulator
The JTAG Emulator with the quickest speed over the world

MICETEK accumulates a couple of generation development experience of JTAG Emulator, and break through much bottleneck technology so that to achieve excellent performance. The loading speed of JEDI-II is 2-15 times as those of the similar products of the other companies in the world. But the price of JEDI-II in China is lower than 1/10 of those of other companies.

The loading speed is one of the most important indexes for choosing the Emulators. And it is also the target of all the
tool manufacture going after. Because the user's application program code is bigger and bigger. For example, the code of mobile phone is 31Mbytes. It'll take only 20 seconds to load the code using JEDI-II. But normal emulator needs 310 seconds to load it.
So it is obvious that JEDI-II can save a lots of time. For the application based on embedded Linux, WinCE or Windows Mobile, the loading speed of the emulator is the most important index.
<![if !supportEmptyParas]>USB one-key Burst Programmer Inside
JEDI-II Programmer Inside supports offline one-key program function without tradition ways. The written program should be copied to U Disk, and then the program can be loaded into the Emulator from PC via USB port. The main USB port, inside the JEDI-II, makes it easy to write the Flash anytime.
You needn't to consider if it is in workshop or lab, how much the capacity is, with or without PC, how many the products are, whether it is new products or repair workshop. It can be finished by one-key mode.
Multi-Session parallel debugging
JEDI-II supports multi-Session parallel debugging. Whether the system is with single-CPU or multi-CPU, whether the system is Single board computer or multi-board computer JEDI-II can support start and stop meanwhile and multi-users debugging.<![if !supportEmptyParas]>
Web Configuration
Using WEB browser, those operations can be completed, such as set up parameter, fault diagnostic, hardware configuration, interface define. The interface is very friendly and convenient to control and long-distance operation, such as technology support and maintenance in different areas.
<![if !supportEmptyParas]> <![endif]>
<![if !vml]>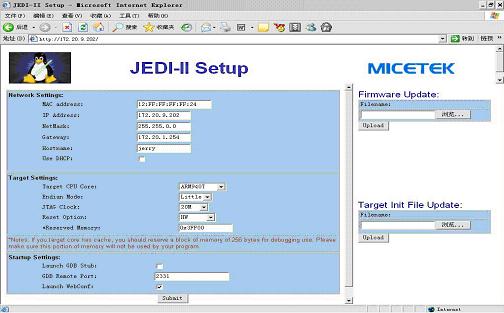 Hardware Diagnostic
<![if !supportEmptyParas]>· Using JTAG scan line, JEDI-II achieves the operations of Memory Fill, Search, Copy, Test,
Compare Data Bus and Address Bus testing, and can find the fault of hardware jointing
and design quickly.
· JTAG single-line scan testing can find the fault of the hardware connecting and
impedance matching for each signal line of JTAG.
Multiply communication ports communicating with Host PC
· 10/100M Ethernet port communicates with host PC. Full-speed Ethernet port is the basic
function of the top-grade Emulator. It can load the program in high speed, and it supports
long-distance control and debug, share with team and long-distance maintenance.
· Slave USB port communicates with Host PC. USB port can realize quickly program
loading and easy to connect host and convenient for user to choose.
· Master USB port is important for JEDI-II. JEDI-II can directly connect Flash Memory Disk
and achieve the big capacity Utility with Flash offline programming. And the program will
be loaded and run automatically, and it's very convenient and practical.
· RS232 serial port communicates with Host PC.<![endif]>
JEDI-II features:
· CPU real-time control, emulating in full-speed
· Loading in extremely quick speed, 1.6Mbytes/S on the condition of 20Mhz TCK
· 10/100M Ethernet port communicates with Host PC
· Dual USB ports communicates with Host PC
· Master USB port supports U Disk with Flash memory programming
· RS232 port communicates with Host PC
· Support a wide range of voltage: 1.8-5.0V
· JTAG/EJTAG/COP port
· Flash memory program and debugging
· Hardware diagnosis for user's board
· Automatic initialization for user's board
· CPU circumjacent register user-defined
· In-line Firmware updating via Web and update the edition
· JediView IDE
<![endif]>· Dimension: 7.36 inch x 4.60 inch x 1.65 inch (L x W x H)
JEDI-II advance debugging feature:
· Multi-function of emulating:
Go, FreeRun, Restart, Reset, Step into,
Step over; Step out, Step into/ over
Continuously, Goto cursor, Goto, Jump to
· Un-limited breakpoint
· Support tracing and debugging for Cache content
· Support mapping and debugging for virtual memory address to physics address
· Instruction-Set-Simulator supports offline simulating debugging
· Support lots of debugging file formats such as ELF-DWARF, STABS, S-record and AXF
etc
· RTOS-Awareness Debugging
· Support the debugging of ThreadX, uCOS/II, Linux and uCLinux application-grade and
BSP
· Support the debugging of RTOS, Vxworks, QNX, Necleus, and RTXC BSP
· Support GNU,SDT,ADS,MULTI2000, CodeWarrior
· Support the in-line debugging of ANGEL stay mode
· VB Scrip macro command operation, realize debugging automatically
· SHELL command support all the debugging functions
· Source program Code-Browser
· Program code efficiency analyzer (SPA)<![endif]>
Strong-function debugging software
Open the debugging interface and full integrated with most of debugging software
All kinds of editions of GDB
ADS; SDT; RealView
Greenhills MULTI2000
Freescale CodeWarrior
IAR EWARM tools
<![if !supportEmptyParas]> <![endif]>Support ARM family
ARM7, ARM7DI, ARM7TDMI, ARM7TDMI-S, ARM710T, ARM726FZ
ARM9, ARM9TDMI, ARM940T, ARM946E, ARM920T, ARM922T, ARM926E, ARM9E-S,
ARM966-S<![if !supportEmptyParas]>
<![endif]> Support MIPS family
MIPS32 (4Kc, 4Kp, 4Km, 4KEc and 4Kem)
MIPS64
Third-Party product

Ordering information
| | | | |
| --- | --- | --- | --- |
| Model | Products Description | Brand | Remark |
| JEDI-II/S | JEDI II/S Emulator, Flash Programming with USB port | MICETEK | |
| KEIL | Keil μVision2 | KEIL | Optional |
Copyright 2009 MICETEK International Inc. All Rights Reserved
Support IE 6.0