MPC8313E-RDB and MPC8323E-RDB reference development board
<![if !supportEmptyParas]> <![endif]>
<![if !supportEmptyParas]> <![endif]>
MPC8313E-RDB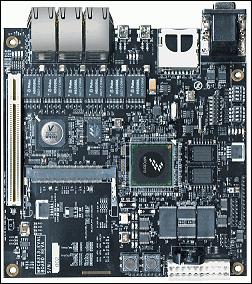 The MPC8313E-RDB is a system featuring the powerful PowerQUICC™ II Pro processor, which includes a built-in security accelerator. This low-cost, high-performance system solution consists of a printed circuit board (PCB) assembly known as the MPC8313E-RDB (Reference Design Board), plus a board support package (BSP), distributed in a CD image. MPC8313E-RDB (Evaluation Board) includes Linux 2.6 BSP with optimized drivers to support all peripherals This BSP enables fastest possible time-to-market for development or integration of applications including printer engine, broadband gateways, no-new-wires home adapters/access points, and home automation box.
<![if !supportEmptyParas]> <![endif]>
The MPC8313E-RDB is used for Printing and imaging, consumer, and industrial applications, including main CPUs and I/O processors in printing systems, networking switches and line cards, wireless LANs (WLANs), network access servers (NAS), VPN routers, intelligent NIC, and industrial controllers.
<![if !supportEmptyParas]> <![endif]>
MPC8323E-RDB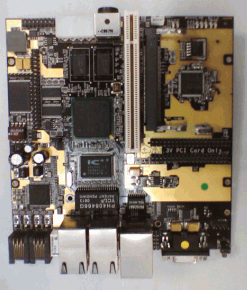 The MPC8323E-RDB is a turnkey hardware/ software reference platform designed to rapidly provide the core elements of tomorrow's multiservice gateway products. The MPC8323E-RDB leverages the processing power of the MPC8323E PowerQUICC II Pro integrated communications processor. Built on Power Architecture™ technology, the MPC8323E family of products integrates a proper balance of architectural features (e300 core, dual integer units, 16 KB instruction and 16 KB data caches) along with a DDR 1/2 memory controller, RISC-based communications engine (QUICC Engine™) and an optional H/W security engine.
The MPC8323E-RDB can be used for the application such as Residential gateways, IP Server device, such as VoIP, IPTV, SOHO networking, VPN routers, Access points, DSLAM line cards, Industrial control, Test and measurement equipment.
<![if !supportEmptyParas]> <![endif]>
Related Link:
MPC8313E-RDB development board
MPC8323E-RDB development board
<![if !supportEmptyParas]> <![endif]>
For more information, please feel free to send Email to us.
Copyright 2009 MICETEK International Inc. All Rights Reserved
Support IE 6.0